First listed on: 22 October 2019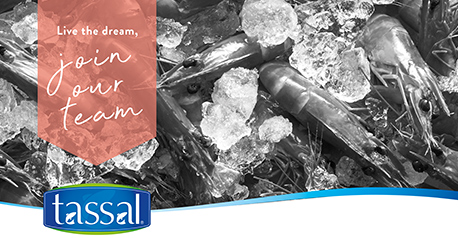 People and Culture Adviser
At Tassal, we value our people and we look for not only your professional experience but your alignment with our 4P's – Our People, Our Planet, Product and Performance. Sound like you? Then we'd love to hear from you.
We are currently looking for a self-motivated, experienced and passionate person to join our People and Culture team in the beautiful Whitsundays. In this role you will be supporting our People and Culture Manager and working with a fantastic team that thrive in a fast paced and fluid environment undergoing rapid growth through expansion and future development – all while having fun along the way!
About you:
We are after a dynamic person who loves what they do, enjoys working with and meeting new people and will embrace the opportunities this position can bring. This role will involve occasional travel. The following attributes will lead to your success:
Passionate – it is clear to anyone around you, you love what you do!
Collaborative: you're known for building trusting working relationships that result in mutual success;
Achievement focus: you're a self-starter who enjoys the opportunity to showcase your skills and celebrate your successes, having a desire to be part of making a difference;
Flexibility, agility and organisation: you thrive in a fast-paced environment, working across a wide range of tasks that require you to be highly organised and work to deadlines;
Continuous improvement mindset: you approach your work with curiosity and creativity , identifying opportunities for a better tomorrow;
Resilience: you can adapt to changing circumstances and can bounce back from challenging situations; and
Experience: You understand generalist HR principles and have worked roles in end to end recruitment across operational recruitment (blue collar) and are agile enough to work across corporate (white collar) roles when needed. Experience with bulk recruitment would be advantageous.
About the role:
Supporting our People and Culture Manager – Prawns, you'll be based in the beautiful Whitsundays and assist as required across sites interstate. Due to our current growth strategies within our new prawn division this role will provide a platform for future development and career opportunities and the ability to make a real impact.
Whilst a generalist role there will have a focus on recruitment covering:
Assisting with the delivery of strategies for the People and Culture team to meet the operational requirements for the rapidly expanding Prawn division.
Networking with managers and business leaders to understand their vacancy requirements;
Establishing networks with external stakeholders to identify candidates and establish pipelines
Partnering with centralised team ensure end to end Recruitment processes are consistent and delivery to operational objectives and timelines
Onboarding of new employees
Employee development and performance management
Ensuring compliance to People and Culture Processes
Travel to other sites as required
administration duties aligned to the above will form part of this role;
About us:
Tassal is the largest producer of Tasmanian grown Atlantic salmon domestically, and through our De Costi Seafood business we source and process a wide range of seafood. Just recently you might have heard that we acquired three prawn farms – so now prawns are part of our amazing seafood offer and will provide the foundation for our future growth and provide an excellent platform for career opportunities within our business
Tassal are all about building a better tomorrow. We pride ourselves on our industry leadership position as we build a better tomorrow and strive for excellence across our four critical factors of success (4P's) - Our People, Our Planet, Our Product and Our Performance. Employing more than 1500 people in a wide variety of challenging and rewarding roles, we are recognised as an Employer of Choice and are committed to leading sustainable practices in aquaculture and seafood.
Interested? want to know more, Apply now or contact us today
Applications close Monday the 4th of November 2019
Closing Date:

04 Nov 2019
Location:

QLD - Whitsundays
Work Type:

Full Time
Category:

Change Management/Organisational Development
FMCG
HR/Recruitment